SHILLA STAY SAMSUNG GRAND OPENING - March 13th, 2020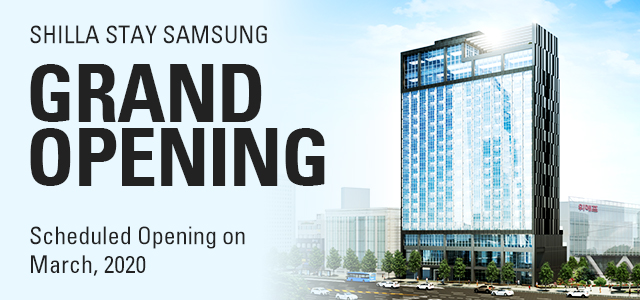 Experience the exquisite values of the Shilla Hotel for reasonable prices. The Hotel Shilla proudly presents a new Shilla Stay in Samseong, a landmark of Korea's economy, trade, culture and trends.
DESIGN

The hotel's modern design creates a stylish atmosphere and offers exceptional space layouts and interiors that cater to customers' lifestyles.

ROOM

Rooms characterized by simple beauty features luxury hotel-class bedding, extra-comfortable beds and high-quality amenities. All this is designed to enhance your relaxation.

DINNIG & BAR

In the welcoming and modern atmosphere of the buffet restaurant Cafe, get a taste of the Hotel Shilla and enjoy a select menu of fresh foods and delicacies from the Shilla's cuisine.

FACILITIES

Furnished with high-end equipment and amenities, the meeting rooms are available for events of diverse scale, and the fitness center featuring advanced exercise machines is a great place to recharge your body and mind.
Images above may differ from actual product.
Hotel Information
- B3F ~ 21F
- Guest Rooms(309 Rooms), Buffet restaurant 'Café', Lounge Bar, Meeting Room, Fitness Center, Business Corner, Rooftop Bar
Nearby Facilities and Attractions
- Business : COEX, World Trade Center Seoul, ASEM Tower, City Airport Terminal, Seoul Gangnam Police Station, Gangnam Driver's License Examination Office, Seoul Medical Center Gangnam Branch, POSCO Center, Kyunggi Highschool, Whimoon Highschool
- Tourist Attraction : COEX Aquarium, Lotte World, Olympic Park, Seokchon Lake Park, Sports Complex, Seonjeongneung Royal Tomb, Bongeunsa Temple, Dosan Park, SMTOWN COEX Artrium, Jamsil Hangang Park, Jamwon Hangang Park. Sevenluck Casino Gangnam COEX
- Shopping : Hyundai Department Store trade center, Starfield COEX Mall, Parnas Mall